card no.1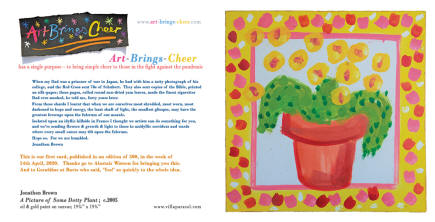 Jonathon Brown: "A Picture of Some Dotty Plant"
oil & gold-paint on canvas, 19¾" x 19¾", c.2005
Jonathon Brown is an artist & writer living in France near the Italian border. His exhibitions include a major survey of his landscape painting, at the Talbot Rice, in the University of Edinburgh (2002), and two extended residencies at the Musée International d'Art Naïf in Nice (2010 & 2015). He is working on a book of studies of the effect of art over time, entitled "Breakfasts in Florence".
---
card no.2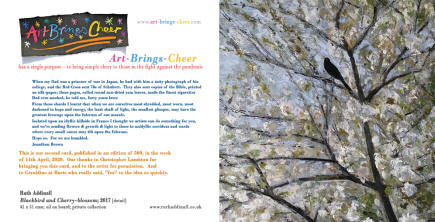 Ruth Addinall: "Blackbird and Cherry-blossom" [detail]
oil on board; 41 x 51 cms; 2017 (private collection)
Ruth Addinall is a painter and sculptor living in Edinburgh. She has exhibited widely in the UK and has work in private collections worldwide. In 2016 she won National Open Art's Orrin Prize. Her work has appeared on BBC television, in national newspapers and has been used for various book covers.
---
card no.3
Jane Dubuisson: "Spirited Lilies"
oil on canvas; 51 x 61 cms; 1997
Jane Dubuisson is a drama teacher, artist and renovator of furniture. For a great many years she has been living in the foothills of the French Alps, north of Nice, where she also gives Hatha Yoga classes. Thanks to her, the London Academy of Music & Dramatic Arts (LAMDA) has a strong presence on the Côte d'Azur, and her paintings have been exhibited there and in London and elsewhere.
---
---
If you are an artist wishing to submit a picture, contact me here!