​​"Wow! Jonny, they are beautiful. I love them.
I feel very emotional just thinking about the positive impact this will have."
This is the beginning and Barts has set the pace. Your bundle of cards will go to their Staff Welfare Hub, from where they will be carefully distributed across the entire Trust.
Once we have further interest any hospital or trust or facility could be recipients!
Now, the palaver of opening a bank account and needing accountants and so on is too time-consuming, this project is urgent. Therefore we are asking sponsors to send their money directly to the printer.
So, once you have been in touch with me and we have decided on a card, quantity and so on, I give you their order number and you make your transfer with their order reference number. Once they have the money, they print & deliver... job done!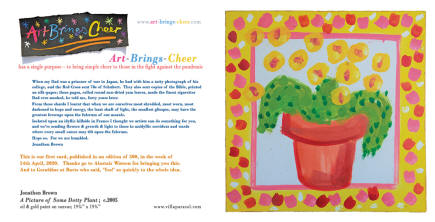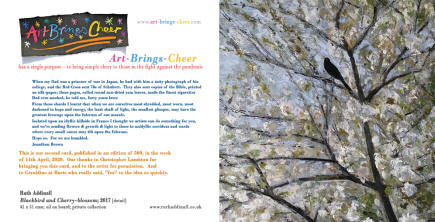 The cards are 152mm square, with a blank inside, and come in envelopes. (This is because they will be used individually between members of staff.)
500 cards cost £119.88
300 cards cost £80.34
100 cards cost £43.74
You'll understand that if you are feeling even more generous, it would be better to sponsor more than one design, than to send more than 500 to the same place...
Note that the money sent must be the exact sum, so as not to foul up their accounts!
So, if you're up for this, contact me here and we can discuss which artwork you would like to sponsor and all the other details! Thanks.
If you are an artist wishing to submit a picture, contact me here!